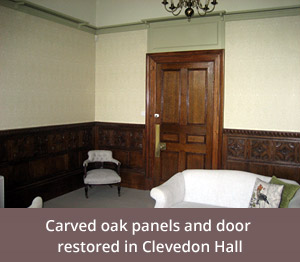 Our Clients
In addition to repairing, re-polishing and restoring furniture for my private clients
I also carry out work for the following businesses:
Restoring and re-polishing period features in properties for Ken Biggs Contractors.
Polishing and restoring the furniture of the Queensbury Hotel in Bath to ensure the stylish accommodation in this boutique hotel is kept to a high standard.
Restoring period features in the Grade 2 listed Georgian Town House as it was transformed into luxurious serviced apartments 'The Berkeley Suites' - sister to the Berkeley Hotel in Clifton, Bristol.
Polishing and restoring the contemporary furniture to maintain the high standards of the chic and elegant 4* Bristol Hotel, one of The Doyle Collection.
Restoring and re-polishing some of the period features of Clevedon Hall, a stunning Victorian mansion, as it is restored to its former glory.
Repairing removal damage for Langdons Removals Ltd and G B Liners Ltd.
Repairing and re-polishing fire and water damaged furniture for Crawfords Property Restoration & Cleaning Ltd.
Re-polishing and restoring the high quality reproduction furniture at the MacDonalds Bath Spa Hotel, to maintain a high standard in this prestigious 5 star hotel.